I have been curvy/plus size most of my life and I have certainly come to love me the way I am. I secretly do at times wish I was a couple of sizes smaller (only for the sake of wearing nice clothes that fit well), but at the same time, many girls wish they had my curves! I'll have to admit, being curvy is actually pretty darn AWESOME!
I consider myself blessed to be curvy, but living in this body comes with some struggles. So, if you are a curvy girl wanting to know if someone else shares your big girl qualms, or if you are not on the curvy side but don't mind a little insight (and a little laugh) as to how we curvy girls do it, read on:
1. Nothing fits you well.
If it fits you well on the arms, it might be too tight at the waist. Sometimes, the pants might fit well at the waist, but it will be too short because your big ass pulled everything up! I once tried on a beautiful blouse with lovely prints but I couldn't purchase it because it couldn't even go down my boobs! Imagine my frustration at that time, knowing that blouse was the biggest size available in that shop!
2. Forever 21 what?
You can shop at large retails like HnM, Forever 21 and Zara only in your dreams. In Malaysia and other Asian countries, it's like winning a lottery if you manage to snag yourself some nice clothes that fit well from these retail outlets! I mean, most of their clothes go up to size UK 16 max, how rude!
3. Online shopping is a breeze. Not.
Forget shopping online. Don't even bother with their sizing charts because those charts tell lies. I once purchased a dress online by trusting their sizing chart and I was shocked when I received my order. The dress looked like it could only fit my neighbour's 13-year-old daughter. So, if you are curvy/plus size and feeling adventurous to shop online, be prepared to order two sizes and return the one that least fits (that too, if they accept returns and exchanges)
4. Sexbomb all day
Instantly turn a decent outfit into something "sexy" or "slutty". Even a basic loose dress may look like a bodycon dress on a curvy body. We are only left with two choices when it comes to outfits: Either we wear huge sweaters that make us look like 3,895 kilos OR wear a basic dress and walk around in broad daylight looking like Salma Hayek ready for a fiesta!
5. Stretch is porno
Ask any curvy/plus size girl about stretchy jeans and jeggings and you will hear her rave on about it for hours. Trust me, non-stretchy jeans and denim are a big no-no for girls with bigger everything. Personally, I survive on stretchy jeans and comfy jeggings. Also, jeggings are god-sent for those bloated and "fat" days because they hug the extras and don't make us feel like somebody is squeezing the life out of us!
6. Tugging is cardio
Denim shorts look like underwear on us. Not only do we show off more than what we are comfortable showing, we also suffer crazy thigh chafing caused by repetitive friction. No amount of baby powder or deodorant stick can help. oh, and dare i forget the arm workout we do to tug our shorts down a thousand times when they ride up?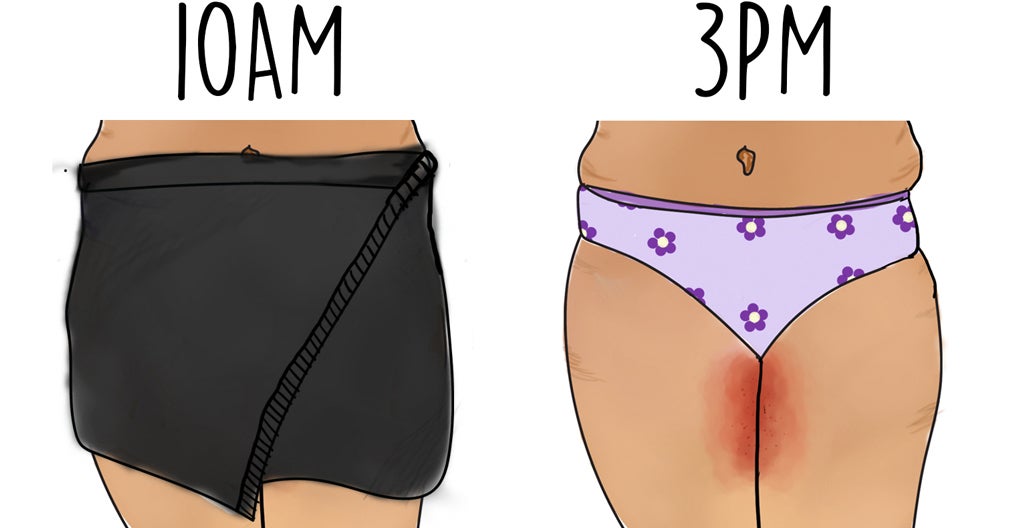 Speaking of tugging, let's talk strapless bra.  Strapless bras and big boobs don't get along, ever! Our boobs are too heavy for bras that don't have any support.  Even though we buy our perfect fit and size, it never properly fits and we look idiotic trying to reposition our bra every two minutes.
7. No clothes sharing
Like one of your friend's outfit? Feel like borrowing your friend's clothes for a date? Forget about it. Chances are they won't fit because none of your friends are the same size as you are. Also, you risk stretching your friend's clothes out so just stick to your own closet and deal with it gurl!
8. Hello Jiggly Puff
Imagine running on the treadmill and with a bagful of rocks attached to your butt and boobs. That's how we feel when we run and it is mortifying. Not only is running harder for us, we cannot help the not-so-graceful jiggle that follow. But we are absolutely cool (not) with it and will continue to try to jiggle away our coat of cellulite.
9. Ass-ets in your face
Our bulging assets don't usually allow for tight manoeuvring through chairs and tables. We literally say a silent prayer before walking through small spaces because we know we risk hitting something or someone. Going to the movies require some planning – like toilet visit before the movie and limited soda intake – so you don't pull a mid-movie pee break and graze your butt into people's faces on you way out.
10. All about the Bass
We don't fancy being associated with "fat" girl songs. Thanks to Meghan Trainor and Nicki Minaj for their song contents, we get THAT look from everyone when their songs play because they expect you to dance like you own the song! Rappers are constantly trying to tell you what to do with your ass – drop it low, back that ass up and what have you these day. Thanks for the compliments but no, I don't like "Anaconda" and I will not twerk for you dickwits.
11. Boob emergencies I carry safety pins in my bag and my car for boob-gap fashion emergencies. See, button-down shirts always pop open at the boob area, giving viewers a good sight of our cleavage (sometimes we walk around flashing our boobs the whole day without knowing). If we curvy girls want to avoid this problem from happening, we'll have to get a size up. But this also means we now look like we borrowed our Grandpa's shirt to work.
12. Spanx me silly
Almost every girl I know dislike wearing Spanx or shape wear. We curvy/plus size girls HATE them. Although shape wear works like magic to tuck in all the loose chunky bits, wearing it suffocates us, makes us uncomfortable, unexpectedly rolls out and creates a very visible line. Last but not least,  wearing Spanx require acrobatic skills when using the bathroom. But we still suck it in and do it anyway, cuz ain't nobody got time for fat rolls!
So there you have it! The struggle is real for me and all the other curvy/ plus size girls out there but truth be told, I wouldn't have it any other way. I love my body, wonderful curves and all, and ultimately I love ME.
Her curves aren't a curse.
Her body's a blessing.
Her thighs are thunder and her hips are heaven. 
To those of you who share the same kind of struggles or have other struggles that you want to share, do comment and we can have a chat!